Learning Lodge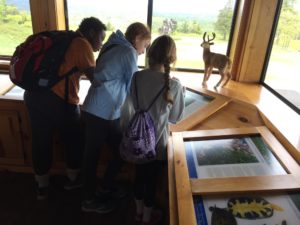 The Learning Lodge opens for the 2019 season on May 25th at 11:00am!
The summit Learning Lodge is open to the public from 11:00-3:00 on Saturdays and Sundays from Memorial Day weekend through Columbus Day weekend. The Learning Lodge is home to a number of educational displays, hands-on activities, and our gift shop. Come visit us during the season and learn about the history of Mount A and the plants and wildlife that call this region home!
➤ Hands-on Display Tables … What makes a plant or insect invasive? How are raptors different from other birds? What kind of signs do animals leave behind? Discover answers to these questions and more with our hands-on displays.
➤ Bear's Den … Rainy weekend? Enjoy a rotating selection of nature films playing hourly.
➤ Kid's Corner … Run entirely by Mrs. J and volunteers with the Friends of Mount A! Join us for nature-themed crafts and games. 2019 season hours TBD.
If you'd like to bring a group to the Learning Lodge during off-hours, or participate in a guided program, please fill out our online Group Registration form.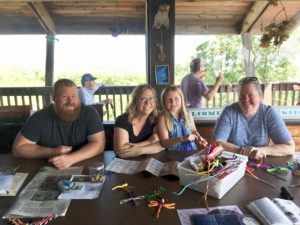 Mount Agamenticus is also a part of the MDIFW Wildlife Trunk program! Educators can click here to learn more (link opens in a new tab).
Please note there are no indoor restrooms available to the public in the summit lodge building. Port-a-potties can be found outside at the summit and base! Drinking water is available under the lodge deck during the season.
➤ Interested in becoming a volunteer Learning Lodge docent? We could use your help! Please fill out our volunteer form and be sure to check the "Learning Lodge docent" box!